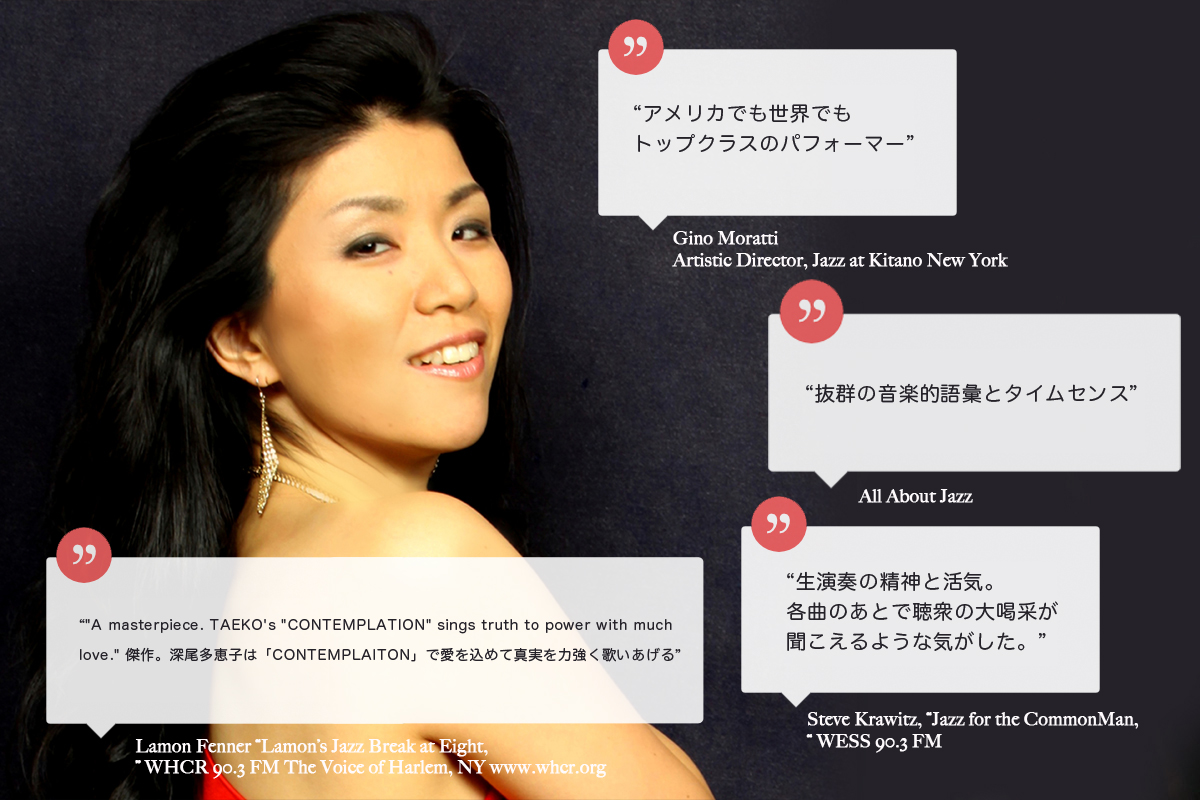 NY1PAGE.COM インタビュー 2019年10月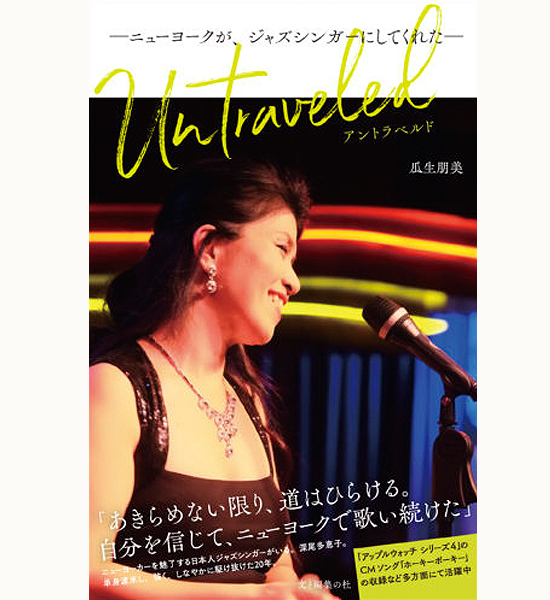 NYジャズ界で認められたAppleWatchCMソングの深尾多恵子(TAEKO)さん、4枚目のアルバムを発表。大阪の司法書士事務所からNYのライブハウスへ。2007年に自社フラットナインレコードを設立。
デビューアルバム「One Love」を発表。
2019年、4枚目のアルバム「CONTEMPLATION」が完成。 (アメリカ2019年10月10日、日本11月27日公式発売)

2019年6月、半生を綴った「Untraveled-ニューヨークが、ジャズシンガーにしてくれた」著・瓜生朋美が出版される。
在米20年、お子様を育てながらニューヨークで歌い続けるジャズシンガー深尾多恵子さんにしゃけがお話を伺いました。

しゃけ: 多恵子さんお誕生日おめでとうございます!!本日10月5日は多恵子さんのお誕生日!!そして、最新アルバムの発売おめでとうございます!!

多恵子さん: ありがとうございます。しゃけさんもお誕生日おめでとうございます!

しゃけ: ありがとうございます。(私は8日です)
アップルウォッチのCM、見ました!大きなお仕事ですね!すごいです!

多恵子さん: 「アップルウォッチ4」のコマーシャルソング「ホーキーポーキー」のレコーディングのお仕事面白かったです。 オーディションに来るように急に連絡がきて翌日に決まって収録しました。その時は何のCMかは教えてもらえなったのです。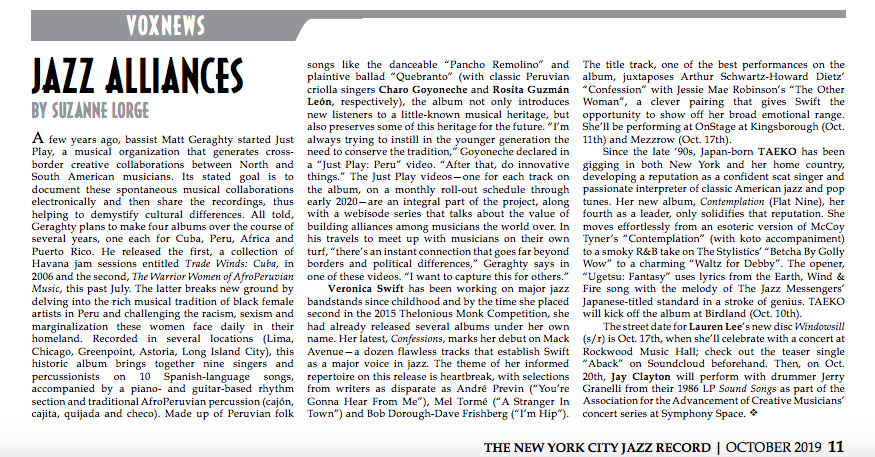 The New York City Jazz Record
ニューヨークシティージャズレコード 2019年10月
JAZZ ALLIANCES: VOXNEWS by Suzanne Lorge
Since the late '90s, Japan-born TAEKO has been gigging in both New York and her home country, developing a reputation as a confident scat singer and passionate interpreter of classic American jazz and pop tunes. Hew new album, Contemplation (Flat Nine), her fourth as a leader, only solidifies that reputation. She moves effortlessly from an esoteric version of McCoy Tyner's "Contemplation" (with koto accompaniment) to a smoky R&B take on The Stylistics' "Betcha By Golly Wow" to a charming "Waltz for Debby". The opener, "Ugetsy:Fantasy" uses lyrics from the Earth, Wind & Fire song with the melody of The Jazz Messengers' Japanese-titled standard in a stroke of genius. TAEKO will kick off the album at Birdland (Oct. 10th) 


90年代後半から、日本生まれの深尾多恵子(TAEKO)はニューヨークと母国の両方でライブ活動を行っている。安定したスキャットシンガーであり、アメリカのジャズやポップスを感情をこめて 歌い上げる歌唱で 評判を築いている。
最新アルバム、Contemplation(Flat Nine)は、彼女のリーダー4作目として、その評判をさらに確固たるものにした 。 難易度の高いMcCoy Tyner'sの「Contemplation」(箏が参加 )、The Stylisticsの「Betcha By Golly Wow」のスモーキーなR&Bテイク、そして魅力的な「Waltz for Debby」へと、次々に容易に歌いこなしていく。
1曲目の「Ugetsy:Fantasy」では、The Jazz Messengersの日本語タイトルのついたこの曲のメロディーを Earth、Wind&Fireの歌詞を使用して歌い、天才の一打を放っている。 バードランドにてアルバム発売記念ライブを行う。(10月10日)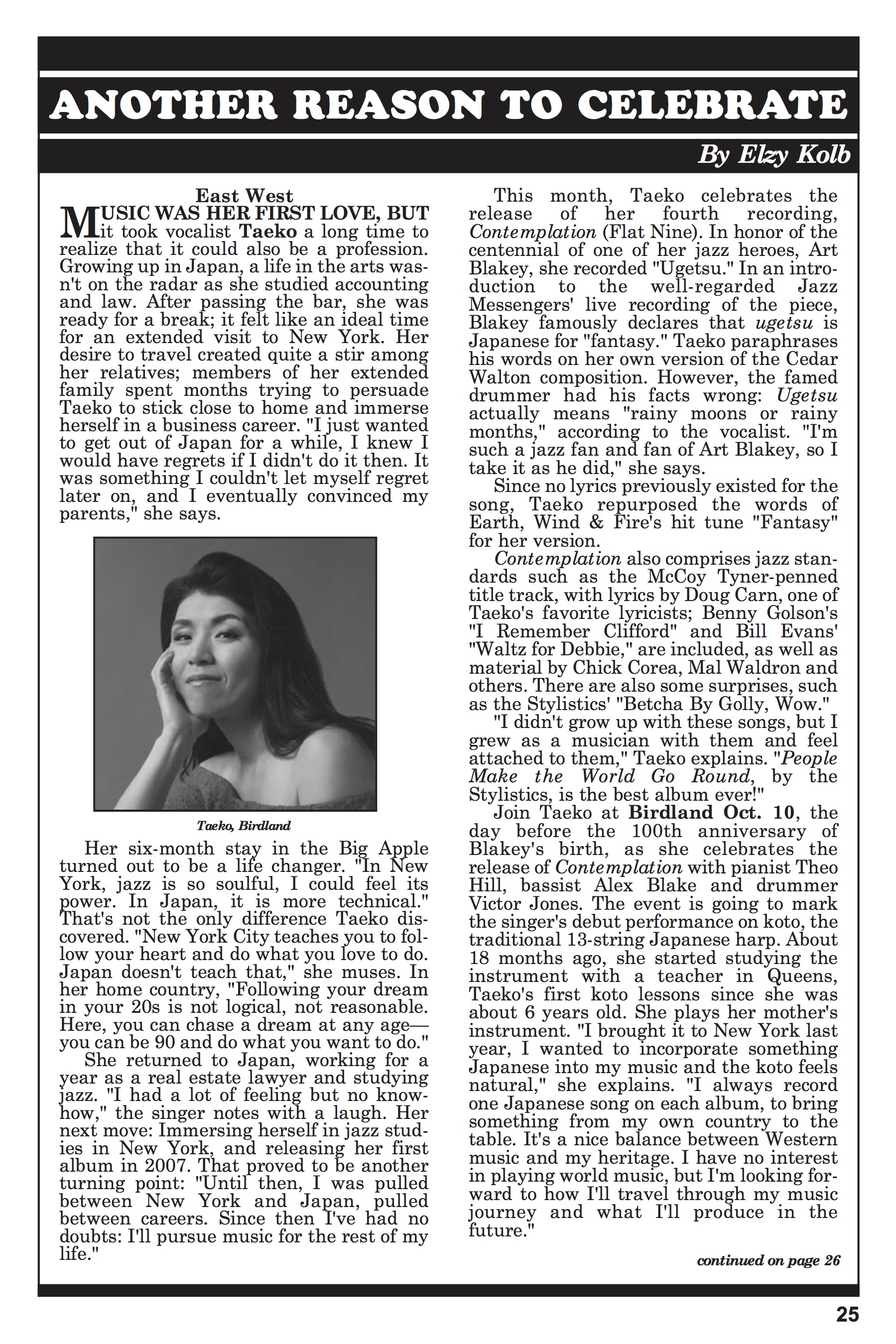 HOUSE JAZZ MAGAZINE
ホットハウスジャズマガジン(ニューヨーク) 2019年10月
Another Reason To Celebrate/ 祝福すべきもう一つの理由 By Elzy Kolb/ 著・エルジー・コルブ

East West Music was her first love, but it took vocalist Taeko a long time to realize that it could also be a profession. Growing up in Japan, a life in the arts wasn't on the radar as she studied accounting and law. After passing the bar, she was ready for a break; it felt like an ideal time for an extended visit to New York. Her desire to travel created quite a stir among her relatives; members of her extended family spent months trying to persuade Taeko to stick close to home and immerse herself in a business career. "I just wanted to get out of Japan for a while, I knew I would have regrets if I didn't do it then. It was something I couldn't let myself regret later on, and I eventually convinced my parents," she says.

 
東、西 音楽は小さな頃から好きだったが、ボーカリストの深尾多恵子にとって、 音楽が職業にもなりうると知るには長い時間がかかった。日本で育った彼女は、学生時代は会計と法律を学び、芸術で生きる人生は念頭になかった。司法書士の資格試験を通過した後、しばらく自分の時間がほしいと思い、ニューヨークへ行くことを決意。 その決意は、家族間でかなりの騒ぎを引き起こした。彼女の家族は何ヶ月もかけて多恵子を引きとめようとした。 「しばらく日本から出たいという思いでした。もしそれをやらなければ後悔することはわかっていました。自分をあとで後悔させまいと思い、最終的に両親に納得してもらいました」と彼女は言う。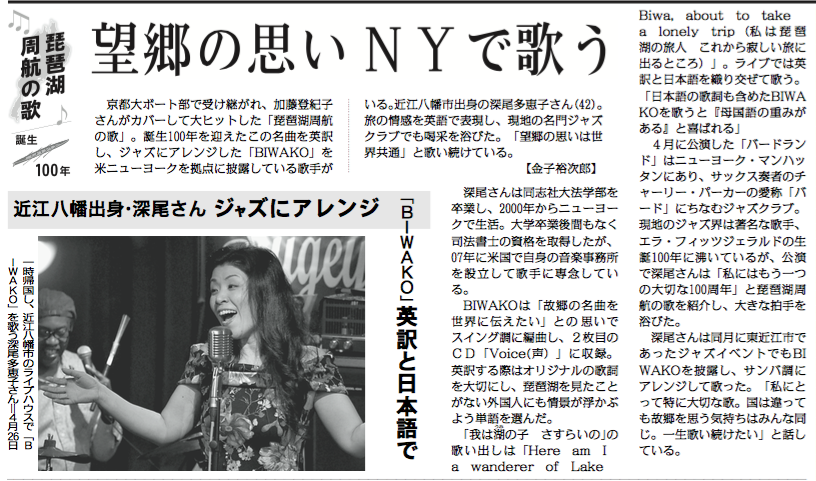 毎日新聞 2017年
夢追える人が「成功者」 渡米での経験、転機に 深尾多恵子さん
「琵琶湖周航の歌」を英訳して歌う米ニューヨーク市在住のジャズシンガー、深尾多恵子さん(42) は司法書士の資格があり、近江八幡市を拠点に活動する江州音頭の歌い手の勝義さんを父に持つ。異色の経歴について聞いた。【金子裕次郎】 続きを読む


ALL ABOUT JAZZ/ September 26, 2013 Read more
Performance Review on TAEKO at United Philadelphia Jazz Festival "An absolute mastery of musical vocabulary and timing."

"Three of the performances deserve special notice. Taeko is an outstanding female vocalist from Shiga,Japan (now also residing in New York City) who has both a resounding, resilient voice and an absolute mastery of musical vocabulary and timing. She gave standards like "I've Never Been in Love Before" new life, and showed her mastery of diverse genres with powerful renditions of songs by Sly and the Family Stone and Marvin Gaye. Her rendition of McCoy Tyner's ballad, "You Taught My Heart to Sing" was extraordinary and moving. Like Italian- born Roberta Gamborini, Taeko's cross-cultural background has given her an incomparable mastery and understanding of the jazz idiom that makes her singing electrifying and memorable" 
Jazz Inside Magazine: November-2013 Issue  By Alex Henderson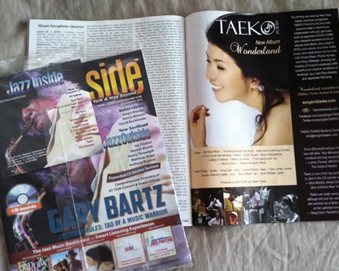 Taeko Fukao WONDERLAND—Flat Nine Records 101.
Over the years, a wide variety of things have happened when jazz vocalists performed in foreign languages—some great, some not so great. Brazilian goddess Flora Purim has done some amazing things in English even though Portuguese is her native language, and Europe is full of jazz vocalists who grew up speaking Ger- man, Dutch or Swedish at home but are so fluent in English that you would swear it's their mother tongue. On the other hand, there have been jazz singers who embarrassed themselves by trying to sing in French or Spanish even though they had never actually studied a romance language. So the moral of that story is: if you're going to do a lot of singing in a foreign language, it's important to have a grasp of that language. And on Wonderland, Japanese jazz vocalist Taeko Fukao really soars in a predominantly English-language environment. Fukao, who obviously has a strong command of English and an impressive vocal range, favors an approach that is best described as post-bop with traces of R&B at times—and she successfully tackles a variety of material, ranging from Tin Pan Alley standards (including "Old Devil Moon" and "Softly, As in a Morning Sunrise") to John Coltrane's "Naima" and Miles Davis' "Blue in Green" to Earth, Wind & Fire's "I Think About Lovin' You."

If someone is familiar with the ethereal "I Think About Lovin' You," he/she probably knows a lot about the history of Earth, Wind & Fire. Recorded for their second album, The Need of Love, back in 1971, "I Think About Lovin' You" (which featured singer Sherri Scott) was only a minor hit and came out of their pre-Philip Bailey era. In 1971, EWF weren't nearly as big as they would become several years later, and many people who know EWF for "Fantasy," "Shining Star" or "Boogie Wonderland" have never had the pleasure of hearing Scott (who had a connection to the AACM in Chicago and per- formed avant-garde jazz with Joseph Jarmal and Muhal Richard Abrams in the 1960s). But "I Think About Lovin' You" is a gem of a song, and it works well for Fukao.

Fukao's accompaniment on Wonderland includes, among others, Stacy Dillard on tenor sax, Doug Carn on acoustic piano, Lonnie Plaxico on bass and Victor Jones on drums. Carn's presence is quite appropriate in light of the fact that he has both jazz and R&B creden- tials and wrote the lyrics that Fukao embraces on "Blue in Green" and "Naima." Another person who appears on Wonderland is singer Giacomo Gates, who performs a male/female duet with Fukao on Tadd Dameron's "If You Could See Me Now." A memorable outing that contains some pleasant surprises, Wonderland is easily recommended to those who like their post-bop with a touch of R&B.
Lamon Fenner, WHCR NY, Voice of Harlem "Your Wonderland creations are truly wonderful !! "
WHCR FM aired a special program to feature TAEKO's music by dedicating entire 2 hours of "Lamon's Jazz at 8" in 2013.

By Jordan Richardson Read more

Perhaps the most captivating out of many captivating things found on TaekoFukao's Wonderland is the choices the Japanese-born, New York-based songstress makes. Listening to her pour herself into this set of arrangements is a marvel, with her note and tone selections transforming each piece into her very own. Wonderland is Taeko's third album. Here, she is joined by a crackerjack outfit that includes Doug Carn (piano), Lonnie Plaxico (bass) and Victor Jones (drums). Vocalist Giacomo Gates makes an appearance, while Stacy Dillard's saxophone features on three tracks. Guitarist Kevin McNeal is also featured.
By Rotcot Zzaj Read more

Taeko Fukao – WONDERLAND: Taeko has been sending us great jazz for quite some time now, & this latest release is another clear winner, especially if your tastes run to high-energy jazz vocal work. Taeko's rendition of "Naima" is as silky-smooth as jazz gets, and will ascend quickly to the top of your playlists & just won't "drop off". My personal favorite of the eleven tracks offered up for aural enjoyment and edification was the highly charged closer, "What A Wonderful World"… if you can't get a little joy out of this performance, you've got a foot in the grave already! I give Taeko a MOST HIGHLY RECOMMENDED, with jazz vocal lovers in mind, and an "EQ" (energy quotient) rating of 4.98. Get more information at Taeko's website. Rotcod Zzaj
"HARTFORD COURANT" TAEKO Interview
A Gutsy Dream, A Jazz Fortune Found Taeko Fukao Was A Lawyer In Japan Until She Risked It All To Come To NYC To Sing By OWEN McNALLY, Special To The Courant The Hartford Courant February 21, 2013
"NEW YORK POST" TAEKO  Read
Interview May, 20th
J-Pop World Read
"Taeko Fukao Interview"
Quotes by Royal Stokes
"I put Taeko's Voice in my Best Jazz Vocal CDs of 2010 list -- and for good reasons. In the course of the album's twelve tunes she proves that she can dip and soar, execute faultless vocalize and vocal acrobatics, scat with the best of them, and caress ballads, all the while maintaining a swinging pulse. She is, quite astonishingly, in total command of the disparate materials she chooses to apply her extraordinary chops to. The program offers a welcome balance of compositions drawn from sources as different as Duke Ellington, Thelonious Monk, Wayne Shorter, Alan Jay Lerner/Burton Lane, Herbie Hancock, Marvin Gaye, Sly and the Family Stone, and Japanese folk songs. Taeko is supported by a world-class combo of musicians, each of whom contributes stunning solo efforts."
W. Royal Stokes is author of Growing Up With Jazz: Twenty-Four Musicians Talk About Their Lives and Careers, Swing Era New York: The Jazz Photographs of Charles Peterson, and other books on jazz.
By Salvador A. Riggi Jr.,
Executive Director Friends of Cape May Jazz, Inc.
"As Executive Director of the Friends of Cape May Jazz, Inc. I have the privilege of listening to the music of artists performing at our scheduled Bank of America Cape May Jazz Festival. Prior to this festival one artist caught my attention and that artist was a Japanese Vocalist named Taeko. After listening to her CD I knew that I had to make sure that I attended her performance. Upon arriving at Carney's Other Room on the first night of the Cape May Jazz Festival I was surprised to find the venue filled to capacity. As I walked to my reserved table I was not only taken back by her physical beauty, but by the beautiful sound of her voice and her strong presence on stage. As I listened to her sing I could hear sounds of Ella Fitzgerald and maybe a touch of Sara Vaughn. Her onstage presence was a clear indication that not only was she singing the song but she became part of the song, which is a clear sign of a truly gifted and talented performer.
Further strengthening her presence was the band backing her. Taeko's impact on the audience was also obvious since no one left the room until she completed each of her three sets. During and after the festival ended many people asked me if Taeko would ever return to the Cape May Jazz Festival; my response was short and simple……I can guarantee that Taeko will indeed return to the Cape May Jazz Festival!"

By Tim Price (Sax Player/ Jazz Educator) Read more
So....I headed to Cape May Jazz Festival Friday to do my sax workshops and the super jams at Carneys Bar as part of the festival that I do. By Jim Eigo Jazz Promo Services
Taeko - VOICE: Whenever I look at a jazz CD cover in the Orient (particularly when they come from Japan, for some reason), I almost automatically have expected it to be all cover tunes that are (either) poorly executed or backed up with bands that can't quite "make the grade". &, yes, I know that's not "PC" - but that's not our forte here at this magazine... & I'll tell you right now, this young lady has GOT IT! Whether she's doing Herbie Hancock, Monk, a Taeko original composition, or a Japanese jazz song - it's all very pleasantly done, with superb ratings on both talent and energy.
She relocated to NYC during the late '90's, and has clearly learned her lessons well... just listen to her spirited singing on Marvin's "Inner City Blues " - clearly brings the fact to light (again) that "The Man" still has his arms wrapped 'round everything... I mean, she OWNS this performance of Gaye's classical soul tune! It doesn't hurt that she's joined by some players we know already (Greg Lewis on organ; Kevin Mcneal on guitar), but the even 11 tunes (+ one bonus track) very nicely feature her superb vocal talent... this isn't a set of tunes you'll relegate to the bottom of your playlists anytime soon. The tune that struck me as favorite track was Stanley Turrentine's "Sugar "; whether you like puns or not - jazz just do NOT get any sweeter than this. A very, VERY cool jazz vocal album that gets my MOST HIGHLY RECOMMENDED rating, as well as my "PICK" for "best female jazz vocals" in 2010. "EQ" (energy quotient) rating is 4.98.
By D. Oscar Groomes: O's Place Jazz Magazine Website
Japanese vocalist Taeko Fukao strikes a groove right away singing "Cantaloupe Island", the first of twelve classic contemporary jazz selections, mostly on the funky side.
By Jazz Times Read more
Beatnik-Entertainment presents The Japanese Songbird, Taeko Fukao known to audiences throughout the world as "Taeko," as she celebrates the release of her latest CD "VOICE."
By Step Tempest  Read more
"Voice" by TAEKO, issued on Flat Nine Records, is a more "conventional" recording. The Japanese native opens the CD, her 2nd, with an inspired rendition of Herbie Hancock's "Canteloupe Island" and....
By Chuck Vecoli on JazzReview.com Read more
TAEKO's latest CD, Voice, is a tasteful collection of songs from some very different sources that she treats with the same skillful...
By john shelton ivany , national news bureau Website
Although she came to nyc from japan in 1998, taeko boasts a classic american sound. on "voice" she treats us with a clear vibrato-less funky jazz instrument as reassuring as a warm fireplace.
By http://www.tybailey.com/ Read more
Wow! Taeko is a fun singer who is not shy about expressing her soul on tunes like Herbie Hancok's - Cantaloupe Island' and Monk's "I Mean Y ou" , "Marvin's "Inner City Blues" and...
By J.B./ J.B. Spins  Read more
Sure, lyrics are important, but the voice and how it is used are what really matter in jazz singing. As a case in point, Japanese jazz vocalist Taeko performs two equally...
By Jordan Richardson  Read more
When I first came in contact with the music of Taeko, I was enamoured with her ability to stretch sound and work normal-sounding notes into waves of bending, meandering tone...
From Hungary By Czékus Mihály  Read more
Valamiért a Tokió-Budapest tengely mentén nem igazán áramlanak be hozzánk hangzó anyagok, pedig köztudomásúan aktív jazz élet folyik a felkelő nap országában...
By Piers Ford Read more
Take a talented young Japanese singer, transplant her to New York in her formative musical years, immerse her in what is probably the world's richest jazz scene, then stand back...
By John Book - June 6, 2010. CD Review 
Taeko has returned with a brand new album called Voice (Flat Nine). Last time when I heard her, I felt that the kind of power and strength I had hoped to hear in specific songs..
Review CD "ONE LOVE" In TUNE International Magazine: UK Website
September 2009 Issue, Page 22
TAEKO: ONE LOVE: Flat Nine Records 101 http://www.jazzpromoservices.com Here's a ten-song festival by Ms. Fukao that is certain to knock you out. From the first smashing electric tones of "It Could Happen To You" (Burke/Van Heusen) I was whisked away to a musical wonderland. Fortified as she is with a brisk double time and concluding with an original scat, Taeko is ear shattering. She's from Japan and possesses an absolutely finely honed voice with many varied interesting shades. There's an exceptional "Dindi" (Jobim/Oliveria) that's so dramatic you are bound to play the replay button. It's theatre of the highest quality. Her duet with bassist Gaku Takanashi on "I've Never Been in Love Before" (Loesser) is up tempo and most extraordinary. "I Hear a Rhapsody" (Fragos/Backer/Gasparre) is almost taken at an innovative marching beat. It works very well. And then there's "Trav'lin Light" (Mundy/Mercer/Young). Taeko splendidly treats this standard to an emotionally almost standstill. It's a beautiful delicate treatment befitting a great standard.
CD Review by Jazz Improv NY Magazine - May 2008 Issue Read more
All the best traditions of jazz vocalists are evidenced in One Love...
By George Harris/ All About JAZZ California - March 2008 Issue Read more
Japanese vocalist Taeko Fukao has successfully attempted the daunting challenge of bringing the great American songbook back to ...
By Edward Blanco  Website
Definitely one heck of a jazz singer, Taeko Fukao's graceful approach to the music leaves quite an impression on "One Love."An amazing singer who bills herself as a Japanese songbird, jazz and R&B vocalist Taeko Fukao has been performing and producing charming jazz vocal albums in New York for the past decade.
By The Musicians' Ombudsman Website
(Taeko) is a gutsy interpreter of our beloved American Songbook" Amid the strong musical signature of her great jazz trio, chanteuse 'Taeko' takes us on a vocal journey of mainstream jazz. She delivers her vocalise in a deceptive yet viable manner...Holding our attention while she explores her tunes melodically & harmonically.....
By George W. Carroll Read more
Amid the strong musical signature of her great jazz trio, chanteuse 'Taeko' takes us on a vocal journey of mainstream jazz...
By Chris Spector
Editor and Publisher C 2008 Midwest Record."On the money throughout, jazz vocal fans are sure to enjoy this one."TAEKO FUKAO/One Love: In which we find the Japanese songbird staking more of her claim to the Big Apple with a charming set of standards that shows her love of jazz and world sounds.
And More!
Kjell Radio Holstebro: "Thanks a t for the album, she`s a great singer, the best japanese singer I`ve ever heard." Kjell Radio Holstebro Denmark. blogcritics.com "A brilliant addition to any music lover's catalogue" by Jordan Richardson. Taeko's CD "OneLove" has been introduced in Gelgium!